Why Russian private house gives you more comfort
A private house in Russia is something that is valued. The majority of cities population lives in apartment buildings. Those are poor or middle class. You may never know who lives in an apartment near you – it may be an old lady who retired long time ago, or a family of five. But you may be certain that they would wish to live in a house of their own. There is not much law regulations in regards with the noise inside apartment buildings, and the quality of the buildings has really degraded since Soviet times, so you can hear noise from your neighbors throughout the day. This is the reason Russian private house is wanted by many Russians.
I couldn't figure out who was making noise at 1AM, which caused me go outside and take a picture of the lights in a failed attempt to troubleshoot WHO was it 🙂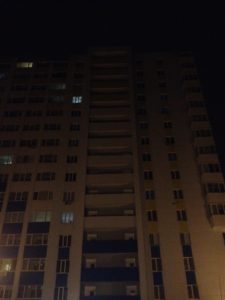 If you have a house in Russia, you may fall into one of the two big categories: poor with a very small house made of wood, or a rich a guy with a house made of brick. Some of the wooden houses might be huge and belong to rich people as well, but that is rather rare.
In province cities, the most expensive houses are located very close or even within the city area. They belong to business men or government officials. It's rarely that you can find wooden houses these days. Despite economic sanctions from the Western countries, people's pockets are surprisingly full and new houses are rising daily.
House made of wood
Having enough with the noise from the neighboring apartments in my building, I've set myself on a trip to my mother's private house located on the country side of the city. It's still officially part of the city and has a dedicated address but the location is rather country side due to distance from down town.
The spring is on: the road is pure soil and it's muddy these days. You can get an idea of how much from the following picture. The gateway to the house is there as well.
Warming up
In cold times, you need to heat the house somehow to survive.
If there is electricity, you are in luck. You can use any heating device and be fine.
Otherwise, and if you want to save some money, do it like the cave men did – use fire 🙂
The working principle of the "oven" shown on the picture is indirect: the fire hits the bricks which surround the long trumpet going to the roof, and once they are heated by the fire, they would make things warm in the room, for some time. Now, there is electricity in that particular house, but my mother made for a wish that I used fire to save on electricity bill.
Eat
Outside
My first wish when I got out into the wild (being there alone), was to cook some shashlyk. I fetched it from a distant grocery before going here, and all the pre-requisities were already there from my previous attempt at cooking it a year ago.
Inside
Thankfully there is a frying pen, an electric oven and a grocery quite nearby.
From under the ground
Mother tasked me to save some fruits and vegetables that are stored in cellar. The flood that comes in spring days might destroy whatever was collected last year and put there for storage.
Cellar is located in the small "building" going under Russian name "hozblok". I got lots of last year's apples to eat.
Drink?
My mother said that the water from the well is ok to drink if properly filtered. I did not want to risk and I bought bottled water whereas I used the water from the well for washing my hands and brushing teeth. Mistake? Yes. But that's another story…
Dispose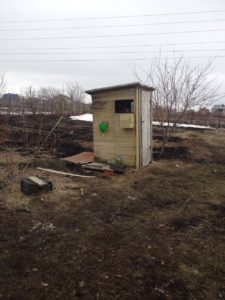 The CR is located outside, which makes it increadibly troublesome to live in house in winter.
The Kind of houses THEY live in
The rich and not necessarily famous people don't live like that of course. I'll just put some pictures down below. Need to remind that this a provincial city in European part of Russia: some houses are simple, some not.
The lucky ones (most stealing ones?) live in a house like that :p
This slideshow requires JavaScript.